The Granger ISS Storm Shelter is the only Underground Storm Shelter manufactured by an internationally recognized manufacturing leader who has produced Underground Shelters, for nearly twenty years. The Granger ISS Underground Stom Shelter comes complete, ready for installation when it arrives at the installation location. Unlike many less innovative Shelters, the Granger ISS does not require an anchoring system in most typical installation scenarios. This allows for faster and less expensive installations. An added feature of the Granger ISS is that without an anchoring system, the unit can be moved in the future if necessary.
When most families are thinking about the investment of a Storm shelter, they are taking a concious effort in providing the safest environment possible for their family. For many, acquiring an underground shelter is an investment into their family security for many years to come. Storm Shelters come with a wide range of features. Some underground tornado shelters offer basic defense without offering any type of "comfort features" such as lighting, seating or carpeting. Many of these underground shelters are made from inferior materials that will immediately begin to deterioriate once placed in the ground, such as concrete or steel. Some shelters do not even provide the spacing for any occupants to stand in! The Granger ISS Storm Shelter is not only one of the most durable Tornado Shelters in the industry, it additionally supplies a complete array of features and amenitites.
Storm Shelter features
The Granger ISS Tornado Shelter has industry leading features that no other Stom Shelter has including: Scroll over any of ther underlined features to see the Tornado Shelter feature pop up
Double Wall, 1/2" thick (each wall) Polymer Construction
Lifetime warranty against cracking, leaking and floating!
Gas assisted shock for easy door opening & closing
Rotationally Molded Vent Cap
500+ year life span!
No anchoring required for typical installations!
Granger ISS Underground Shelter Gallery
The Granger ISS image gallery contains several images of the Underground Shelter units installed, being installed or being occupied. Please click on the thumbnail image below you wish to see in the larger main image viewing area to see the Granger ISS Storm Shelter image. Below the gallery section, we have a number of videos showing features, Third Party Testing, Research and so much more! The Granger ISS is the industry leading, Storm Shelter innovation in America!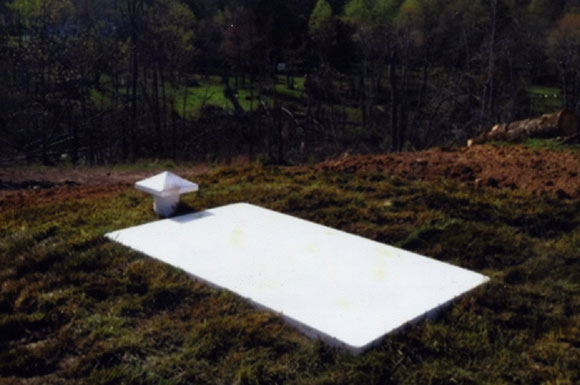 Granger ISS Underground Storm Shelter